Klamath Dam Removal Imminent
On Tuesday November 17th, 2020 an agreement was announced that would pave the way for the largest dam removal in U.S. history. Although dams provide a critical role in water supply and hydro-power, they have long been a hindrance to anadromous species migration.
The new deal on the Klamath River (which straddles the Oregon/California Border), would remove four large hydroelectric dams, drain reservoirs, and open hundreds of miles of fish habitat that have been blocked for more than a century. Over time, the structures have become less viable while native populations of salmon have dwindled to almost nothing. The four dams being removed were built solely for power generation. The dams no longer produce a significant amount of power compared to other sources such as natural gas, while salmon populations in the river have declined by as much as 98% in recent years.
Tribes such as the Yurok and Karuk as well as environmentalists have been advocating for the removal for years, although lengthy disputes and regulatory stalls have delayed the process. The project is estimated to run about $500 million, with partnerships formed between the states of CA and OR as well as the non-profit Klamath River Renewal Corporation in order to fund and oversee the removal. New outlets report that opposition from this project has come from homeowners who worry that losing the reservoirs created by the dams will reduce property values and eliminate a valuable source of water used to fight wildfires.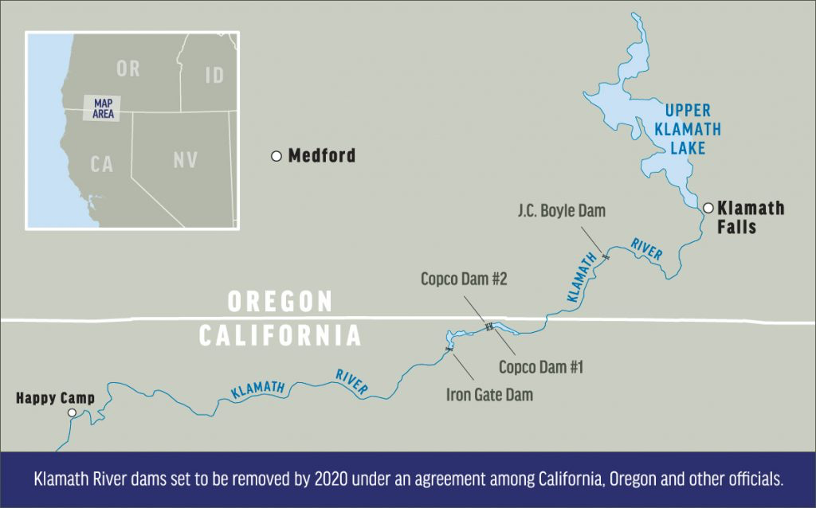 The dam removal may help to restore salmon populations that are central to the spiritual and subsistence practices of numerous tribes. Other benefits of dam removal are improved river habitats, restored floodplains, changes in water quality, modifications to sediment release and transport, improved oxygen levels, and of course, improvements to migration of fish and other organisms. In the short term, taking down dams could be troublesome as the large release of sediments from the reservoirs can increase water turbidity and old pollutants into the habitat downstream.
The deal must still be approved by the Federal Energy Regulatory commission, but removal could begin as early as 2022.
References:
KRCR News story: The Klamath Dam is being demolished in the largest dam removal in US history
American Rivers: The Ecology of Dam Removal