Fish Habitat Partnership Releases New Infographic: Reaching Wider Audiences In Today's Visual World
If you follow fish habitat advocacy in the United States, there is a good chance that you have run across the National Fish Habitat Partnership. Since 2006, this group has been coordinating with local and regional organizations to match federal funding (typically at a 3:1 ratio) for high-priority habitat projects such as rehabilitating estuaries on the Atlantic Coast and recovering imperiled desert fish in the Mohave Desert. So far, 935 projects have been funded across 50 states.
As scientists, we take pride in the final product of our boots-on-the-ground restoration work, but these projects begin long before putting waders in the water and even before the office meetings and email chains. Habitat restoration projects like the ones completed through the Partnership often begin with communication and education. They begin perhaps as early as the first time you asked yourself in that first-grade classroom where fish like to live. They begin with people that care.
To that end, the Partnership recently released their third infographic to highlight their accomplishments and motivate future investment in fish habitat. The infographic uses a blend of images, diagrams, and words to convey the growth and impact of the Partnership over the past 13 years. I reached out to Ryan Roberts, program manager for the Partnership, to hear his thoughts on the benefits of this new infographic:
"We feel that the use of infographics helps to tell a great story graphically and helps to cut down on displaying too much information through text. Infographics can be compelling tools to get people's attention… they have been great to use to tell our story and have as leave-behind information to get people interested in our efforts."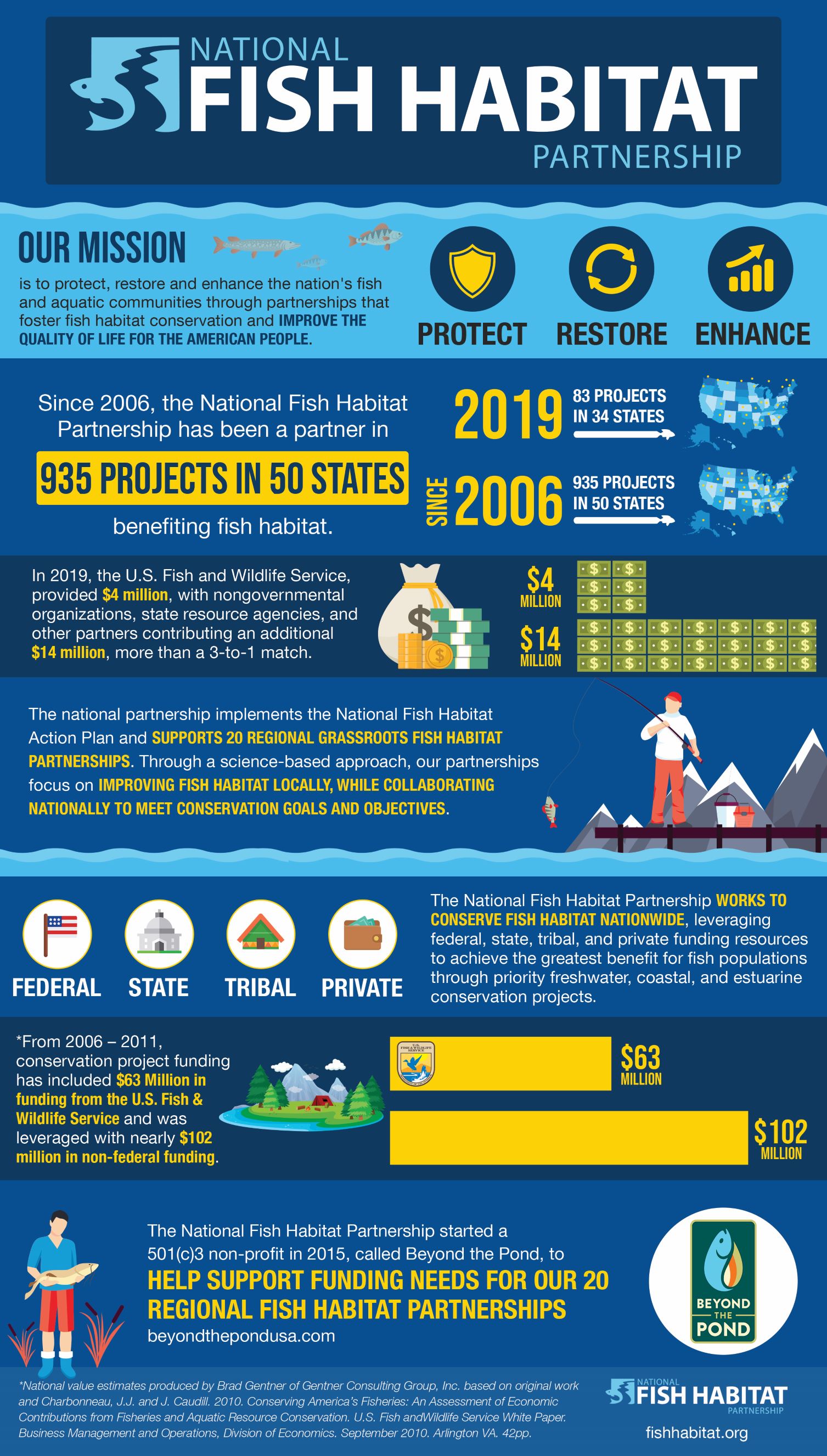 It seems to me that the Partnership is doing what any successful organization needs to in order to survive and thrive: adapting. It is a strategy of self-introduction to our highly visual world that greets 2020 with a hello and a vital message – that fish habitat still is, and always has been, incredibly important.
Scientists excel at the process of collecting, interpreting, and sharing data with other scientists– however, we have not quite cracked how to best share what we know with the rest of the world, or why our knowledge matters. One more infographic won't change that overnight – but it is a great place to start.
For more information about the Partnership:
Ryan Roberts
NFHP Program Manager