Climate change may impact salmon habitat
Changes in land use and local habitat conditions threaten aquatic life in streams and rivers, but this occurs against the backdrop of climate change. To overcome local and watershed degradation, conservation groups are attempting to restore habitats, however many do not include climate change considerations in their planning. Habitat restoration models and plans may provide a completely different set of strategies for restoration projects if climate change is considered. As a result, the restoration projects that are chosen to be completed may not provide the most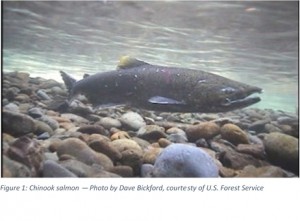 benefit to freshwater salmon habitat, since planning may not include effects of climate change. One such case is discussed by Battin and co-authors (2007) for Chinook Salmon (Oncorhynchus tshawytscha) habitat restoration in a Pacific Northwest river basin. This restoration plan focused on the Snohomish river basin, located in western Washington and used Chinook Salmon as a model species to investigate the possible interactions between climate change impact and habitat restoration.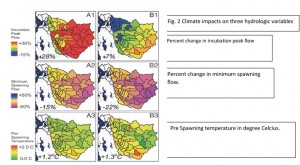 Battin and co-authors used two climate models to project future salmon habitat quality for three future land-use scenarios with hydrological variables to develop a projected habitat model. Climate change is difficult to project due to the complex and numerous factors involved. However, in spite of uncertainties in the magnitude of climate change predictions, modelled impacts of climate change on freshwater salmon habitat and productivity were consistently negative.
Habitat restoration can play an important role in offsetting the effects of climate change to Chinook Salmon habitat. Habitat degradation from climate change may make Chinook Salmon recovery more difficult, because projected climate change will be the most pronounced in relatively pristine and high elevation streams. The location of these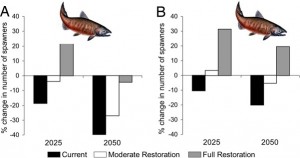 streams makes it more difficult to implement habitat restoration measures, so the quality of Chinook Salmon habitat in these streams will be driven largely by climate change. Climate change and habitat restoration together are likely to cause a spatial shift in Chinook Salmon abundance due to decreased snowpack and snowfall. Because low-elevation sites are more accessible for restoration, they may provide greater opportunities for restoration to improve Chinook Salmon spawning.
Habitat restoration can play an important role in counterbalancing the effects of climate change. However, according to Battin and co-author most expected climate impacts cannot be mitigated entirely. With increasing consideration of future climate conditions in restoration projects, the long-term effectiveness of these projects can improve Chinook Salmon habitat restoration throughout their range. Therefore, management approaches that contain flexibility and adaptation toward future climate scenarios may have greatest potential to meet the challenges posed by climate change.
Reference
Battin, J., Wiley, M.W., Ruckelshaus, M.H., Palmer, R.N., Korb, E., Bartz, K.K., Imaki, H. Projected impacts of climate change on salmon habitat restoration. PNAS, 16:104, 6720-6725.